Afro Live Music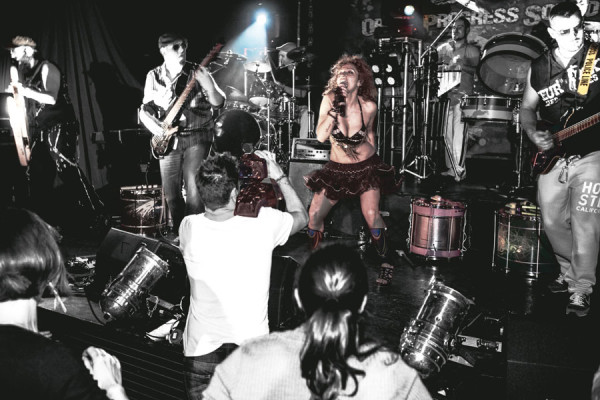 The project "ORDEM PROGRES SOUND" (O.P.S) was born in 2004 from fellow musicians from Rimini who all shared a big love for brazilian samba reggae. The main goal has always been the same since: to promote, with high-end performances, the culture of Afro-Brazilian music, with its particular mix of african percussive rhythms and traditional brazilian Samba.
This unique music is called AXÉ; the word itself doesn't really represent a single musical current, more appropriately it brings together all the musical styles coming from Salvador De Bahia and the north-eastern part of Brazil. A one-of-a-kind blend of modern genres like reggae, funky, pop, rock together with the percussions of religious african chants, the rhythms of samba and afro brazilian music.
Spacing from Samba Reggae and Batucada patterns, the band takes you on a journey through the musical evolution of Afro Bahian music, delivering both traditional percussive Afro Samba sounds and modern electric Afro Funk grooves!
To sum it up, the word AXÉ includes:
SAMBA
SAMBA REGGAE
BATUCADA
REGGAE
BRAZILIAN FUNKY
FUNK-SAMBA
FREVO
Through the years the band has been praised by a constantly increasing audience who kept crowding squares, discos and any kind of venues to have fun and dance to the rhythm of a percussive groove like no other. The line-up varies between 6 and 10 elements which include a rhythm section (drums, percussions and bass guitar), melodic section (acoustic and electric guitar, cavaquinho, keyboards and synth), brass section (trumpet, alto sax and tenor sax) and vocals.
The whole repertoire is focused exclusively on popular Bahian music and it's all sung in protuguese. It's an energetic, explosive, entertaining show for all ages and any kind of audience, the captivating power of the percussive section just cannot be ignored and it's really hard not to dance. The goal of these performances is to recreate the magic and the atmosphere of a real gig in Brazil, the careful playlist selection really brings it all together so you can feel just like you're attending the real Carnival of Salvador de Bahia. The selection of the songs is an important part of the whole artistic process, but a great deal of attention was also given to the arrangements and the sound of each style of AXÉ music. The result is a distinctive blend of the typical brazilian groove with "funky-rock-pop-disco" sounds that are more common in our culture; so what you get is an innovative sonic experience while the execution strictly sticks to the tradition.