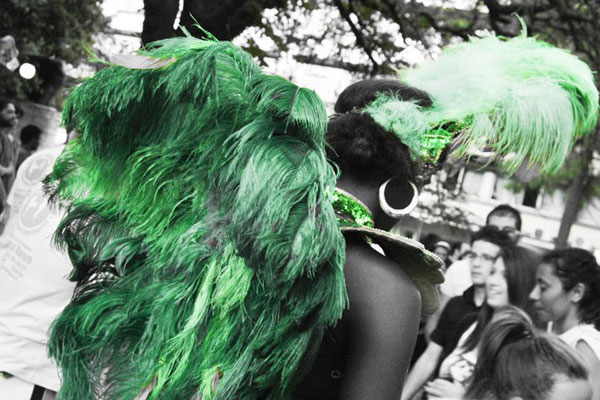 FULL STAFF (with Parade)
Ordem Progres Sound (O.P.S )
Banda Pipoca
Raça Baiana
Dancers
Dj
This setup is ideal for medium-large venues (squares of any kind, town centers, parks, conference centers, open-air commercial activities…)
The event will develop through two distinct phases and locations:
the first spot is the walk for the itinerant show of "Banda Pipoca", "Raça Baiana" capoeira dancers and the brazilian carnival dressed dancers, together with O.P.S singer Saraxé. This parade will feature the performances described above in an ever-flowing pace set by the powerful AfroBrazilian rhythms, the vocals by Saraxé who will sing the most famous brazilian tunes and the spectacular acrobatics by capoeira dancers.
The parade will then reach for the second spot, where the stage is set and the main show happens. Here the DJ will punch in with his selection of typical Afro-Brazilian tunes.
At this time the parade will end and the "O.P.S" and "BANDA PIPOCA" show will begin right away, with the two acts taking turns without pauses, in a seamless flow of music and rhythms, capoeira exhibition both on and off stage and the coreographies of the dancers, featuring costume changing and traditional "samba"  carnival dresses.
The total duration of the show varies between 120 and 150 minutes, followed by the DJ who will play for 120 additional minutes if needed, thus bringing the evening to an end.
Plan your Party with Us!